4.
Focus on Los Angeles
DISAPPOINTED IN THEIR HOPES of earning adequate wages, thousands of Mexicans had recrossed the border of their own volition as the first year of the depression ended. Their departure for the most part was unsensational, lacking the fanfare of headlines, and was only routinely reported in the dispatches of consular officials. Then, in 1931, there occurred a series of events which resulted in a movement of Mexicans back to Mexico in unprecedented numbers. The impetus for the movement came on two levels: first, the repatriation programs organized by local public and private welfare agencies, representing an intensification of an earlier effort; and second, the federal government's campaign of threatened deportation.
The deportation of aliens could hardly be considered a new governmental practice, since the return of undesirable persons to their countries of origin was provided for by law and the policy's enforcement was a routine job of the Bureau of Immigration. Robert K. Murray's account of the 1919 deportation mania, Red Scare: A Study in National Hysteria, 1919–1920, indicates the extremes to which deportation policy could go. At the height of the Red Scare, newspapers warned of the impending downfall of the country at the hands of Communist agitators. The actual amount of radical activity was greatly exaggerated, and thousands of aliens, many of them completely innocent, were deported from the United States.
Although Mexican aliens in the United States received considerable attention in the early months of 1931, policies determining deportation came from the national level, with a general application to all alien groups. Defenders of civil liberties criticized harsh use of the immigration laws for their general application rather than their direction at any specific ethnic group.1 President Hoover made his position regarding these laws and their enforcement quite clear. Believing that aliens were holding down jobs that could have been held by native-born Americans, Hoover endorsed a strenuous effort to curtail both legal and illegal entries and to expel undesirable aliens. This policy led to events often unrelated to the goal of reducing unemployment. Misinformation on legal procedures, "voluntary" deportation, and contradictory pronouncements by officials created a controversy which aroused criticism and anger in the United States and provoked the government and the press of Mexico.
Doak's Plan for Unemployment
Much of Hoover's problem resulted from his appointment of William N. Doak as secretary of labor to replace James J. Davis, who had been elected to the Senate. Doak promised to seek ways to solve the national unemployment problem. Soon after taking office on 9 December 1930, the new labor secretary proclaimed his solution. Doak proposed that one way to provide work for unemployed Americans was to oust any alien holding a job and to deport him. Announcing that there were four hundred thousand illegal aliens in the United States, Doak calculated that under the provisions of the immigration laws one hundred thousand of these aliens could be deported. During the first nine months of 1931, Doak sensationalized what had hitherto been a routine bureaucratic procedure of the Labor Department's Bureau of Immigration, and turned it into what one writer denounced as a "gladiatorial spectacle." This routine procedure was the process of arresting aliens who were suspected of being liable for deportation.2
Doak's immigration agents carried out the order to intensify their hunt for deportable aliens with dedicated zeal. They raided private homes and public places in a search that extended from New York City to Los Angeles. In doing so, they encountered heavy adverse criticism from liberal journals such as Nation and New Republic, which carried on a continuing editorial campaign against the arbitrary arrests and semisecret procedures allegedly practiced by the Bureau of Immigration.
Doak also vociferously protested against the findings of the National Commission on Law Observance and Enforcement, popularly known as the Wickersham Commission, which adopted a report highly critical of the Hoover administration's immigration policies. Although late in the year Doak did receive some critical correspondence from concerned citizens, most letters to the labor secretary came from private citizens and patriotic organizations, who favored his deportation campaign.
Immigration officers preferred to accomplish their work without the interference of the public or the noise of publicity. In fact, the dedication of the federal officials to the enforcement of the rules and regulations established by acts of Congress probably cannot be faulted. As the Commissioner general of Immigration observed in his Annual Report of 1931:
It is the purpose of the Department of Labor ... to foster, promote, and develop the welfare of the wage earners of the United States, to improve their working conditions, and to advance their opportunities for profitable employment; and it is a mere corollary of this duty and purpose to spare no reasonable effort to remove the menace of unfair competition which actually exists in the vast number of aliens who have in one way or another, principally by surreptitious entries, violated our immigration laws ... The force and effect of these provisions would be largely defeated if they were not accompanied by provisions for the deportation of those found in the country as having entered in violation of these restrictions.3
The idea that aliens were holding down jobs and that by giving those jobs to Americans, the depression could be cured, runs through the depression years as a cure-all with little foundation in fact.* Even while newspapers editorialized against the job-holding illegal alien, thousands of destitute, unemployed Mexican nationals were leaving the United States.
While Doak's agents carried on their hunt, the rationale for their work suffered from an obvious contradiction: although Doak asserted that deportation of aliens was essential for reducing unemployment, many of his targets were jobless and on relief. Doak's disregard of this distinction was further blurred by the Bureau of Immigration's intimidation of aliens who held outspoken, and usually radical, political views. Yet despite the outcry against radical aliens and "Reds," at its peak the campaign resulted in the deportation of only eighteen aliens for advocating the overthrow of the government by violence.4
In cases where Mexicans were the illegal aliens, however, the immigration officials seldom bothered themselves with questions either of politics or economic status. As events proved, Mexican nationals illegally in the country were to be arrested not necessarily for political views, but more often for having violated provisions in the immigration laws pertaining to illegal entry and destitution.5 Doak's deportation campaign reached aliens belonging to a number of ethnic groups, but the group most affected numerically was the Mexican alien in the United States.6 The Bureau of Immigration's roundup of Mexican aliens during the Doak campaign concentrated on Southern California and the reason for the focus upon this area can be traced to a succession of moves by Los Angeles civic officials who had been concerned with unemployment relief.
Organizing in Los Angeles
With unemployment running high in Los Angeles, tentative efforts had been initiated toward alleviating the problem as the winter of 1930 approached. City and county officials, in conjunction with business leaders, concerned citizens, and the Los Angeles Chamber of Commerce, attempted to create a coordinating committee to work with charitable agencies such as the Red Cross and the Community Chest. The committee's chief goal was the creation of jobs through public works projects and offers of private businesses. Each relief agency, however, was to continue its own particular tasks as well. This bringing together of local relief efforts coalesced during October and November 1930 and was finally placed on firm ground towards the end of the following month. The delay was apparently due to the rivalry among the people involved. Mayor John C. Porter held out for a separate Los Angeles city coordinating committee, while others wanted one committee for all agencies and organizations in the county.7
Meanwhile, President Hoover had appointed Colonel Arthur Woods as national coordinator of the President's Emergency Committee for Employment (known as the PECE), and this organization began writing dozens of letters to cities throughout the country, offering encouragement, giving advice, and requesting information on individual local relief efforts so that the PECE could act as a clearing house.8 Los Angeles, still in the process of organizing its relief committee, nonetheless received praise from the PECE for having "tackled the problem of unemployment in an affirmative way." Having been informed that much of the initiative had been undertaken by the Los Angeles Chamber of Commerce, the PECE suggested the creation of "a general city committee representative of local officials and the various social agencies."
Finally (and appropriately enough, on Christmas Eve), the organization of a local coordinating committee was completed — or rather, two committees, one for the city of Los Angeles, the other for the rest of Los Angeles County. Mayor Porter's unhappiness at not being made head of the county committee had resulted in a failure to achieve total unity. The county committee was to handle all unemployed people not residents of the city of Los Angeles, but the two committees did plan to work together. Harvey C. Fremming, a labor official from Long Beach, received the appointment of director of the county committee, while the same assignment for the city committee fell to Charles P. Visel.
Members of the Los Angeles Citizens Committee on Coordination of Unemployment Relief, the city committee's official title, represented a cross section of Los Angeles civic leadership. They included Mayor Porter, County Supervisor Frank L. Shaw, Los Angeles Times publisher Harry Chandler, Los Angeles Chamber of Commerce President John C. Austin, and various city officials and business executives. A city appropriation guaranteed the life of the committee until at least the following April. Coordinator Visel presented a plan to the committee, which approved his outline, and he began work immediately.
In its 25 and 27 December issues, the Illustrated Daily News reported on Visel's plan which called for contacting "all government, industrial and private sources of labor with a view toward creation of employment. Through a central clearing house, the applicants for jobs will be introduced to the available jobs most fitted for them." It was understood that preference in job placement would be given to longtime residents of the city. Office space for Visel was provided in the Los Angeles City Hall.
Visel's Scare Tactics
Visel soon placed a curious interpretation on his responsibilities. On 29 December he informed John B. Blandford of the PECE that he would "use existing agencies only and there will be no publicity," and that he would be "coordinating all existing agencies as far as possible to the standardization of applicant data, and creating all activity possible for job increase through ... existing agencies." But Visel soon became interested in other ways of relieving the unemployment problem. Learning in early January 1931 of Doak's proclamation against the four hundred thousand illegal aliens, Visel sent a telegram to Colonel Woods, national coordinator of the PECE. In this astonishing telegram, Visel proposed a scheme through which illegal aliens living in Southern California might be induced either to remove themselves or to be removed. The telegram read:
We note press notices this morning. Figure four hundred thousand deportable aliens United States. Estimate five per cent in this district. We can pick them all up through police and sheriff channels. Local United States Department of Emigration [sic] personnel not sufficient to handle. You advise please as to method of getting rid. We need their jobs for needy citizens.
Visel received a reply from Woods on 8 January, in which the national coordinator asked him to contact Secretary Doak, and to state definitely how far the local law enforcement authorities would go in cooperating with the federal immigration officials. "There is every willingness at this end of the line," stated Woods, "to act thoroughly and promptly." Woods also urged Visel to use whatever influence he could muster in urging California's congressional representatives to support Doak's request for emergency appropriations.
Visel promptly wired Doak and urged the labor secretary to send agents from several other cities to create a "psychological gesture." It was not Visel's intention to press the Bureau of Immigration into conducting an indefinite number of deportation hearings, but rather to establish an environment hostile enough to alarm aliens. "This apparent activity," Visel's telegram promised Doak, "will have tendency to scare many thousand alien deportables out of this district which is the result desired." Doak responded quickly to Visel's telegram and thanked him for his efforts.
The plan of Coordinator Visel to scare aliens into leaving Southern California was built along simple lines. First, there would be publicity releases announcing the deportation campaign and stressing that help from adjoining districts would be given the local office of the Bureau of Immigration. Then a few arrests would be made, "with all publicity possible and pictures." Both police and deputy sheriffs would assist. It was hoped that some aliens would be frightened into leaving and that others would steer clear of Los Angeles.
A few days after the exchange of telegrams, Visel sent Woods a copy of the publicity release he intended to give "all newspapers of Los Angeles, including especially foreign language newspapers," for publication on Monday, 26 January. Visel also requested that the Labor Department send "a very strong wire" which might be used in a follow-up story later in the week. He informed Woods, "It is the opinion of the Immigration authorities here that these articles will have the effect of scareheading many thousand deportable aliens. This is an urgent plea for definite positive aggressive cooperation on a principal unemployment relief measure."* (See appendix B for a verbatim reprint of Visel's publicity release.)
Visel evidently based the endorsement of his plan by the local immigration bureau office on his interview with Walter E. Carr, the Los Angeles district director of immigration. According to Visel's version of the interview, which he sent to Colonel Woods, Carr had stated "that there are undoubtedly many thousand aliens illegally in this section (mostly Mexicans and Japs [sic])," and "that the machinery set up for deportation would be entirely inadequate on a large scale." Carr allegedly went on to say, however, "that with a little deportation publicity, a large number of these aliens, actuated by guilty self-consciousness, would move south and over the line of their own accord, particularly if stimulated by a few arrests under the Deportation Act."
Although Visel's correspondence with Woods and Doak suggests a particularly close-knit organization on the part of government bureaucracy in rooting out aliens, in actuality the interdepartmental lines were very tenuous. The President's Emergency Committee for Employment, which Colonel Woods headed, was an agency of the Department of Commerce, whereas Doak's domain lay in the Department of Labor. The local citizens' relief committees organized throughout the country by cities and counties (with relative success) were not the foundation stones of a hierarchical structure. The PECE's relative degree of accomplishment came from the coordinating of activities engaged in by hundreds of these local committees, some of which were well organized and active, while many others were but names on paper.
Visel's contribution from the city of Los Angeles to the PECE, apart from setting up a job bureau and contacting employers who might have job openings, was to suggest unemployment relief could be obtained by the city's taking part in Doak's deportation campaign — an idea to which neither Woods nor Doak raised any objection, qualification, or disagreement.
In evaluating the conflicting statements, which later were made when the federal government and officials such as Carr strongly denied making any endorsements of a deportation policy aimed specifically at one ethnic group, it would seem that Visel set down in print what he had wanted to hear rather than what he had heard. Visel sent his letter and news release to Woods on 19 January, and followed it up with an impatiently worded telegram on the twenty-third, stating: "RE-LETTER NINETEENTH REPLY URGENTLY NEEDED HERE PLEASE WIRE QUICKLY THANKS."
Woods should have given Visel's news release a more careful reading and considered how it might be interpreted in a city that contained within its population the largest number of Mexican nationals outside of Mexico, D.F., plus Mexican Americans. Instead, the national coordinator tried to reach Doak, who was visiting Ellis Island. Contact was made, and Doak authorized the sending of a special officer and several agents to Los Angeles to investigate the presence of illegal aliens there. (The records of the correspondence of Woods and Visel now held in the National Archives offer no evidence that Secretary of Labor Doak ever saw Visel's news release.)
Impact of Publicity
Visel's publicity release was published in the Los Angeles newspapers on Monday, 26 January. For an alien deportation campaign, this proved to be a most portentous week. On the previous Saturday night a man, identified in one newspaper headline as a "Mexican," in another as an "alien," and in the text of the articles as both, shot and mortally wounded a police officer. The officer took until Wednesday to die; his fight for life was followed closely in the newspapers, as were the funeral proceedings. Meanwhile, the progress of the trial of two Mexicans accused of committing an attack of double rape provided daily diversion for Los Angeles readers.*
While it would be an exaggeration to describe the Los Angeles of 1931 as a wide-open town, during the depression years this city fully deserved the national reputation it had acquired for odd doings. One former district attorney was serving time in prison, another would be indicted by the grand jury in the near future, and Mayor Porter would face a recall election in 1932. A county supervisor was caught stealing funds while settling a flood control contract. Supervisor Frank Shaw replaced Porter and was himself recalled in 1938 amid charges of widespread corruption in his administration.
The Los Angeles Record, the only consistently liberal newspaper in an open-shop town, continuously castigated the police force as "cossacks," and the day-to-day newspaper stories made a dreary montage of crime, death, police brutality, civic corruption, and the sexual foibles of movie stars. Reverend Bob Shuler, a rival of Aimee Semple McPherson and a prototype of Father Coughlin, mixed religion and local politics in a strange combination of the spiritual and the temporal.9
News coverage of efforts to provide jobs for the jobless and relief for the helpless was less concerned with humanitarian issues than with the political aspects of who was at fault for doing the least amount of cooperating. In the latter part of January, the Communist party endorsed a plan of "hunger marches" on the Los Angeles City Hall. Several hundred people participated in one such march on 19 January and were met with tear gas; the city hall required a guard detail when a bomb threat was made.10
In the months preceding the publication of Visel's publicity release, various elements in Los Angeles had indicated support for the idea of restricting jobs on public works projects to American citizens. Motions were presented and passed by the Los Angeles city council and the county board of supervisors, while the Independent Order of Veterans of Los Angeles called for the deportation of illegal aliens as a means of aiding jobless relief.11
The board of supervisors went so far as to endorse legislation pending in Congress and in the state legislature, which would bar aliens who had entered the country illegally from "establishing a residence, holding a position, or engaging in any form of business." Supervisor John R. Quinn believed that such legislation would provide a sort of cure-all for all problems generated by illegal aliens, whom he believed numbered "between 200,000 and 400,000 in California alone." Said Quinn in two remarkably all-inclusive sentences:
If we were rid of the aliens who have entered this country illegally since 1931 ... our present unemployment problem would shrink to the proportions of a relatively unimportant flat spot in business. In ridding ourselves of the criminally undesirable alien we will put an end to a large part of our crime and law enforcement problem, probably saving many good American lives and certainly millions of dollars for law enforcement against people who have no business in this country.
Quinn also believed the "Red problem" would disappear with the deportation of these aliens.12
It was in this atmosphere that Visel's release was published by the Los Angeles newspapers. Each newspaper printed the text as it saw fit, so that while one newspaper printed sections of it verbatim, another summarized and paraphrased. Certain embellishments were added. "Aliens who are deportable will save themselves trouble and expense," suggested the Los Angeles Illustrated Daily News on 26 January 1931, "by arranging their departure at once." On that same day, the Examiner, a Hearst paper, announced, without going into any qualifying details, that "Deportable aliens include Mexicans, Japanese, Chinese, and others."
As the days passed, follow-up stories and editorials kept the public aware of the project. The Express two days later editorially endorsed restrictionist legislation and called for compulsory alien registration. On 29 January the Times quoted Visel, who urged "all nondeportable aliens who are without credentials or who have not registered to register at once, as those having papers will save themselves a great deal of annoyance and trouble in the very near future. This is a constructive suggestion." The impending arrival of the special agents from Washington, D.C., and other immigration districts was made known, the word being given by Visel to the newspapers.
La Opinión, the leading Spanish-language newspaper in Los Angeles, published an extensive article on Thursday, 29 January. With a major headline spread across page one, the newspaper quoted from Visel's release and from the versions of it given by the Times and the Illustrated Daily News. La Opinión's article pointedly stressed that the deportation campaign was being aimed primarily at those of Mexican nationality.
Mexican Government Investigates
By the end of the week, it became apparent that the announcements of an impending deportation campaign were attracting the attention of more than just the readership of the Los Angeles newspapers. The Mexican government, observing the movement of repatriates southward from the United States for some time, received word of the announcements in Los Angeles.13 Its Foreign Relations Department contacted Rafael de la Colina, the Mexican consul in Los Angeles, and instructed him to send a report describing the possibility of a large number of Mexicans resident in Los Angeles being deported. The consul had been working with Los Angeles authorities on the idea of repatriating destitute Mexicans to Mexico, and also assisting the Mexican community in raising donations for that purpose. But a plan to deport de la Colina's compatriots in great numbers was something else again. Contacting the Los Angeles Chamber of Commerce's George P. Clements, a strong advocate of Mexican labor in the United States, de la Colina asked him to urge all persons involved in the publicity to restate and clarify their intentions in the newspapers.14
The involvement of the Los Angeles Chamber of Commerce in the deportation campaign came from that organization's relief efforts in the latter months of 1930. Visel had been keeping the chamber informed of his relief plans, including the deportation scare idea. As early as 8 January 1931, Arthur G. Arnoll, the chamber's general manager, had cautioned Visel to keep his publicity "from upsetting the whole Mexican population by wholesale raids which are misunderstood by the Mexican," and which might also disturb the communities that served California's agricultural labor needs.
On de la Colina's request, Clements went to the consulate, where he "found the Mexican Consul's office very much wrought up." The consul had the definite impression that the deportation campaign in Los Angeles was to be aimed specifically at the Mexican community. Clements "assured them that there must be some error." Then, as Clements later reported to Arnoll, the morning edition of the Express and an unidentified Spanish-language newspaper were delivered, "both of which virtually stated that all Mexicans were to be deported. Also while I was in the office dispatches were received from Mexico City ordering Mr. Colina to make a careful investigation and report." Clements, positive that Visel's publicity had not emphasized the Mexicans "any more than Scotland or Germany," promised Consul de la Colina that he would check with Visel at city hall, as well as look over the publicity releases the relief coordinator had written.
Without delay, Clements went to Visel. Either the coordinator recognized the misinterpretation possible in his publicity, or else Clements made him aware of its potential. At any rate, the two men then confronted Walter E. Carr, the district director of immigration, who agreed that a statement denying the intention of a general deportation campaign which focused on Mexican aliens should be published as quickly as possible. He hastily drafted such a statement and sent it to the local newspapers.
Later that day, Clements met again with Mexican Consul de la Colina to report that a news release had been issued assuring that the deportation campaign was aimed at no particular group.
Media Misinterpretations
But the manner in which the Los Angeles press treated Carr's statement failed to clarify the intentions of the immigration service. If anything, the bureau's motives were confused and misinterpreted all the more. On 30 January, the Evening Herald quoted Carr's release at length, the Evening Express somewhat less so, and the following day the Times and the Illustrated Daily News simply ran brief summaries. Wide publication did not abate Clements' concern for the press's interpretation of the release, and on 31 January, he sent a memo to Arnoll, expressing his dislike for the Express in particular and saying that "they have always been Mexican baiters."
La Opinión on 31 January 1931 ran a major front-page article, assuring its readers that the intention of the federal government was to prosecute aliens with criminal records. This interpretation of the deportation drive was the one Carr had given to all the newspapers. He had stated, "It has never been the policy of the State Department [sic] to direct its forces against any one race. We are treating the Mexicans on exactly the same basis as we treat the Canadians, neither of whom are under quota provisions."
He was also quoted as saying, "If we have aliens who have committed crimes we are going to spend all available funds, if necessary, to deport them before we deport honest laboring people who may be in this country illegally because of some technicality," thus indicating his awareness that many Mexicans, because of the changes wrought by the evolution of the United States immigration laws, had entered the country under irregular circumstances.*
In view of who was held for investigation, arrested, deported, or induced to undergo voluntary departure, the summaries of what Carr had stated were at best misleading, at worst wildly inaccurate. On 31 January the Times said, "[T]he Immigration Bureau in this district is confining most of its efforts to aggravated cases, especially where an alien has been convicted of a crime, and does not devote much attention to laboring men who technically may be illegally in this country." The same day, the Illustrated Daily News condensed it even further: "[T]he local immigration department is concentrating on aliens with criminal records." When undertaken, the actual campaign proceeded on plans rather divergent from the direction promised by the newspapers.
Federal Agents Arrive
On Saturday, 31 January, the day following the issuance of Carr's statement, Supervisor William F. Watkins of the Bureau of Immigration arrived in Los Angeles, largely unaware of the fanfare of publicity which had preceded him. A meeting was called at the district immigration office, where Watkins met Visel, Sheriff William Traeger, Chief of Police Roy E. Steckel, and Carr. Visel restated his reasons for requesting federal aid in deporting illegal aliens from Los Angeles. There were, he alleged, twenty thousand of Doak's four hundred thousand aliens in the Southern California area, and he assured Watkins that the police and sheriff's offices would assist in apprehending deportable aliens.
Watkins pointed out that Doak, while maintaining that there were four hundred thousand aliens illegally in the United States, had qualified his remark by stating a figure of one hundred thousand eligible for deportation under current immigration laws. Since Visel could give no source for his estimate, Watkins had to conclude "that there can not be five per cent of the total number of the deportable aliens in the United States situated in this locality." The vagueness which underlay Visel's reasoning in bringing Watkins three thousand miles across the continent plainly disturbed the immigration agent. "It serves," said Watkins, "to illustrate the viewpoint and attitude of Mr. Visel toward this matter in general."
Continuing his presentation, Visel explained that his original idea had been to have the Department of Labor send a few men to Los Angeles and, by means of extensive newspaper publicity about their activities, to "scarehead" aliens, for the most part Mexicans, out of the United States without the bother of formal deportation hearings. About this idea Watkins later parenthetically remarked in his report to Assistant Secretary of Labor Robe Carl White:
The success of such idea is, of course, open to question, as doubtless many aliens who have wilfully and knowingly entered the United States in violation of law would not choose to so easily forfeit their improperly acquired privileges here, and would more likely move further from the border rather than toward it, as a result of these deportation activities.
Appraising Chief Steckel and Sheriff Traeger as "apparently conservative, practical men," Watkins noted that while the two law enforcement officers offered "the full cooperation and assistance of their men in this work," they nevertheless "did not appear to share Mr. Visel's view as to the method of apprehending aliens for deportation." A second conference was scheduled for the following Friday, 6 February, and the meeting ended.
Visel, who, on the arrival of Watkins and his eighteen agents, had promised the supervisor office space and facilities for the deportation work, found after making several inquiries that no one could supply the immigration agents with satisfactory accommodations. Carr then offered to double up, and the local office succeeded in renting an additional room on the same floor as the district immigration headquarters. "No additional furniture is available for our needs," reported Watkins, "but arrangements are being made to rent some second-hand equipment for this purpose." He also obtained a truck and two automobiles from the Border Patrol, plus three drivers, and the promise of another vehicle from the office at San Pedro.
Unwelcome Press Coverage
Watkins had hoped to avoid contact with newspaper reporters, "but in view of the policy of publicity already indulged in by Mr. Visel, it has not been possible to prevent in every instance word of our plans reaching the papers." This was an understatement; at a meeting in Chief Steckel's office on the following Monday evening, 2 February, to map out procedures (without Visel present), they were confronted by reporters "ready to take photographs of those present apparently with the object of featuring a story."
No doubt exasperated at this point by the practices of Los Angeles journalism, Watkins insisted that no pictures be taken of his agents. The story appeared anyway in Tuesday morning's Examiner on the first page of the paper's local news section, under the headline, U.S. AND CITY JOIN IN DRIVE ON L.A. ALIENS, misprinting Watkins' initials and quoting several statements by Chief Steckel which were quite at variance with the moderating tone of other papers of a few days earlier: MEXICANS BEING TREATED LIKE OTHER ALIENS;15 DRIVE AIMED AT NO ONE RACE, SAYS OFFICIAL;16 DENY PLAN TO DEPORT MANY MEXICANS.17 Said Steckel, "When an arrest is made, attention will be paid not only to the person under arrest, but to all members of his family." In addition to this remarkable statement, Steckel continued:
Most of our crime problems are caused by aliens without respect for the laws of the country. Many of them are open to deportation. Now, with the full cooperation of the Government, we will give particular attention to their status as citizens. In cases where there is doubt the Government will be immediately notified and will have ample time to investigate.18
Noting that the information supplied by the Examiner article was copied in the local foreign language press, "including several Japanese, Mexican, Italian and other periodicals,"* Watkins expressed the belief that all the publicity had suggested to any deportable aliens that they make themselves scarce. Nevertheless, Watkins decided that there must be fire behind all the smoke, and he planned to go ahead with the rounding up of suspected illegal aliens. On 8 February 1931, he wrote to Assistant Labor Secretary White:
I am not overly sanguine of our ability to pick up contraband aliens in large numbers or groups (much less in the volume represented in Mr. Visel's first correspondence), but I do believe from what I have observed since arriving here that there are many aliens hereabouts amenable to the immigration laws. In my opinion the situation will ultimately resolve itself into one involving relentless and diligent effort on the part of our officers to locate and apprehend the class of aliens sought.
Apprehending the Deportables
Commencing Tuesday, 3 February, Watkins and his men, with the assistance of police and deputies, began ferreting out aliens. By Saturday thirty-five deportable aliens had been apprehended.19 Of this number, eight were immediately returned to Mexico by the "voluntary departure" method, while an additional number chose to take the same procedure in preference to undergoing a formal hearing. Several aliens were held for formal deportation on charges of violating the criminal, immoral, or undesirable class provisions of the immigration laws. Five additional immigration inspectors arrived to provide assistance, and five more were shortly expected. On Friday, 6 February, Watkins held the second conference, and the work undertaken so far was evaluated.
Evidently dissatisfied with the degree of help given him by the local authorities, Watkins made it plain "that the Department of Labor had been informed that the forces of the Chief of Police and Sheriff would apprehend and deliver to the immigration authorities for deportation those contraband aliens located in this vicinity," and he now requested Steckel and Traeger to indicate definitely if this was to be done.
The two law enforcement officers then expressed, in Watkins' words, "their inability to undertake any such campaign, and ... for them to attempt such a drastic move, involving indiscriminate apprehension of aliens by their officers who are admittedly unqualified to determine the question of deportability of aliens, and the delivery of aliens wholesale merely on the suspicion that they might be illegally in the United States in order that they shall be examined by immigration officers to ascertain deportability, following which they would be released or held, as the facts warranted, would not only have no justification in law but [would] render them liable to numerous damage suits for false arrests, etc." Following these hedgings on the officers' promised assistance, Watkins turned to Visel, who "replied that he had no experience in police work and did not consider himself qualified to formulate a plan of action."
Watkins, seeing that now even Visel recognized the impracticality of the scheme originally proposed to the Labor Department, proceeded to lay out a plan in which the most feasible means of apprehending aliens could be organized, with the immigration officers taking the initiative away from the local authorities. Steckel and Traeger promised to assign officers to work with the immigration agents in whatever parts of Southern California were likely hiding places for deportable aliens. They were to check aliens and refer any suspects to the immigration officers for further examination.
At this point Supervisor Watkins committed an error: he decided to go through with a roundup of aliens despite the obvious facts that misrepresentations had been made to the Department of Labor concerning the numbers of aliens and the promise of active prosecution by local authorities, and that the semisecret nature of the work involved in detecting illegal aliens had been seriously compromised by all the publicity. In his 8 February 1931 report to White, Watkins wrote:
Though the representations made to the Secretary concerning the alien situation here be discounted, it is my opinion that a very fertile field exists hereabouts for energetic and intelligent activity on the part of the immigration service toward accomplishing the expulsion of deportable aliens. The force regularly attached to this office appears to be too small to adequately care for the deportation work which I believe can be developed. It is my belief that several months [sic] effort on the part of the augmented force will be necessary to accomplish the desired results in connection with the deportation of aliens hereabouts. We will, of course, devote our best efforts to that end.
Watkins had already run into the situation in which some suspected aliens stopped by his men presented head tax receipts or some other proof of entry, as if they anticipated examination. Had Watkins been aware of Visel's comments as quoted in the Los Angeles Times of 29 January, he would perhaps have better understood why the aliens were so prepared. Though he did brand the idea of picking up large numbers of contraband aliens at will as a "fantasy" of Los Angeles officials, his decision to stop and investigate large numbers of people in the hopes of capturing a few deportable aliens served to aggravate an already tense situation.
Unaware of the propensity of the Los Angeles press to write headlines before all the facts were in, and uninformed on particular problems of ethnic minorities in Los Angeles, Watkins nonetheless decided to press the investigation. In doing so, he showed a surprising lack of awareness as to why Mexicans had been crossing the border, the length of time they had been crossing it, and the unique problems so many of them had. "After our inspectors become more familiar with local conditions," he promised White, "and form contacts through which valuable information may be obtained as to the identity and whereabouts of contrabands, I think we can expect some very satisfactory results."
If Watkins thought that Visel had been discouraged by the more realistic attitude presented by the immigration agents at the two meetings, the impression would have been a mistaken one. Visel was pleased at the arrival of the outside inspectors, for Watkins and his men proceeded to do just what Visel's plans had called for.
On 3 February 1931, Visel notified Colonel Woods, national coordinator for the PECE, that "thanks to Secretary of Labor Doak's cooperation and the arrival of his special representative, Mr. Watkins," he could "report considerable activity on our alien deportable [sic] problem." Though at this point Watkins was just beginning his investigations, said Visel, "There is an aggressive campaign under way right now with, so far, gratifying results."
For about twelve days after the launching of the drive on illegal aliens, Watkins and his men managed to do their work without hindrance from the newspapers, though the Express continued its interest in the problem with an editorial on 13 February 1931 entitled SEND THEM HOME. While Watkins was at first successful in apprehending a number of deportable aliens, the number captured decreased shortly; the searches were also hampered by a series of rainstorms which drenched Southern California during February.
El Monte Raid
Then, on Friday the thirteenth, with the assistance of thirteen sheriff's deputies led by Captain William J. Bright of the sheriff's homicide detail, the immigration agents staged a raid in the El Monte area. This action was given prominence in the Sunday editions of the Times and the Examiner. Watkins wrote White that such coverage was "unfortunate from our standpoint," because the impression was given by the articles that every district in Los Angeles County known to have aliens living there would be investigated. "Our attitude in regard to publicity was made known to the authorities working with us in this matter," Watkins complained, "but somehow the information found its way into the papers."
Considering Carr's previous announcements that no ethnic group was being singled out and that only aliens with criminal records were the primary interest of the Bureau of Immigration, the aliens captured in the Friday the thirteenth raid could only have made the Mexican community wary of official statements. Three hundred people were stopped and questioned: from this number, the Immigration agents jailed thirteen, and twelve of them were Mexicans. The Examiner conveniently supplied the public with the names, ages, occupations, birth places, years in the United States, and years or months in Los Angeles County, while the Times was content just to supply the names.20
While generalizations are impossible about the people stopped, questioned, and occasionally detained, the assertions that all the aliens either were people holding jobs (that only could be held by citizens) or were criminals in the county did not apply to these arrested suspects. Of the twelve Mexicans arrested, the most recent arrival in the United States had come eight months earlier, while three had been in the United States at least seven years, one for thirteen years, and another was classified as an "American-born Mexican," a term which carried no clear meaning, inasmuch as the charge against the suspects was illegal entry. Eleven of the twelve gave their occupation as laborer; the twelfth said he was a waiter.
Aliens In Hiding
As Watkins pursued the search for deportable aliens, he observed that the job became progressively difficult:
After the first few roundups of aliens ... there was noticeable falling off in the number of contrabands apprehended. The newspaper publicity which attended our efforts and the word which passed between the alien groups undoubtedly caused great numbers of them to seek concealment.
After several forays into East Los Angeles, the agents found the streets deserted, with local merchants complaining that the investigations were bad for business. In the rural sections of the county surveyed by Watkins' men, whole families disappeared from sight. Watkins also began to appreciate the extent of Southern California's residential sprawl. He observed that the Belvedere section, according to the 1930 census, might hold as many as sixty thousand Mexicans.
Watkins had more direct success in his searches when he assigned several inspectors to check for possible aliens held in jail for other crimes. "In 200 alien investigations at the County Jail, 19 have been found to be deportable, against whom proceedings have been instituted," Watkins reported. Here he was able to quiz suspects charged with crimes like prostitution, procuring, and fraud.
Several Thousand Questioned
In a three-week period the immigration agents had checked and questioned several thousand people at various places throughout the county (most of the investigating officers spoke Spanish). By 21 February some 225 aliens subject to deportation had been apprehended. Sixty-four of them agreed to depart voluntarily and were taken to the Mexican border by truck, while the rest were held for formal warrant proceedings. The latter category, of course, held a number of Chinese, Japanese, and Caucasians, but in Watkins' words, it was "the Mexican element which predominates."
Coordinator Visel, extremely satisfied with the way the work was being conducted, wrote a letter of appreciation to Colonel Woods on 21 February:
 You will recall our request for a "gesture" and help from Secretary Doak on the deportable alien problem.

We are very gratified to report to you that the special activity along this line, set up by the Department of Labor, Immigration Department, is functioning 100% efficiently, quietly, with what we feel is probably the maximum of result.

There is no question in the writer's mind but that the aliens, mostly deportable, who have already left this vicinity, have released many hundreds of jobs, which of course will automatically go to those legally in the country and help our situation just that much.
Mexicans Air Complaints
The Mexican and other ethnic communities were not about to take the investigations passively. La Opinión railed at officials for the raids, while ethnic brotherhood associations gave advice and assistance. A meeting of over one hundred Mexican and Mexican-American businessmen on the evening of 16 February resulted in the organization of the Mexican Chamber of Commerce in Los Angeles, and a pledge to carry their complaints about the treatment of Mexican nationals to both Mexico, D.F., and Washington, D.C. Mexican merchants in Los Angeles, who catered to the trade of their ethnic group, felt that their business had been adversely affected, since Mexicans living in outlying areas now hesitated to present themselves in Los Angeles for possible harassment. Sheriff Traeger's deputies in particular were criticized for rounding up Mexicans in large groups and taking them to jail without checking whether anyone in the group had a passport or proof of entry.
Consul de la Colina appeared at the 16 February meeting as an invited guest, and he promised to uphold the rights of his compatriots before the pressures of immigration officials who acted in so arbitrary a manner.21 De la Colina had been working tirelessly on behalf of destitute Mexicans in need of aid or desiring repatriation. Much of his time was occupied with meeting immigration officials who kept assuring him that the Mexicans were not being singled out for deportation. He also warned against unscrupulous individuals who were taking advantage of Mexican nationals by soliciting funds for charity and issuing bogus affidavits to Mexicans who had lost their papers.22
The Japanese community also expressed its hostility to the immigration officials. When several agents stopped to investigate some suspected Japanese aliens, the owner of the ranch employing the aliens threatened to shoot the inspector "if he had a gun." Japanese people obstinately refused to answer any questions, and Watkins believed that an attorney had been retained by the Japanese for the purpose of circumventing the immigration laws.
Despite the adverse reaction to and public knowledge of the drive on aliens, Watkins persisted. "I am fully convinced that there is an extensive field here for deportation work and as we can gradually absorb same it is expected [sic] to ask for additional help," he stated. Responding to the charges of dragnet methods, he notified his superiors in Washington:
I have tried to be extremely careful to avoid the holding of aliens by or for this Service who are not deportable and to this end it is our endeavor to immediately release at the local point of investigation any alien who is not found to be deportable as soon as his examination is completed.
The tension cooled briefly as the immigration officials held off making further raids for a few days, and Carr and Watkins again issued a statement giving assurance that they intended no persecution of a particular ethnic group, and that only aliens illegally in the country were to be deported.23 This statement may be contrasted with the one released to the papers by Carr on 30 January. The Spanish-speaking community must have found the contradictions baffling, as official pronouncements of fair treatment alternated with intensive prosecutions. This uncertainty was reflected in La Opinión, which announced a raid on 15 February, a promise of amity four days later, another raid on 22 February, another promise three days later, and still another raid on 27 February.
Even the Los Angeles Evening Express (which had changed owners in mid-February) presented an editorial on 19 February 1931 regretting the current impression "among Mexican residents of Los Angeles that they are the particular object of search of Federal and local officials, and that irrespective of the manner of their entrance into the country they are liable to deportation."
City Plaza Raid
Watkins renewed the controversy on 26 February when his agents, assisted by over two dozen Los Angeles policemen, surrounded the downtown plaza at three o'clock in the afternoon. About four hundred people were detained within the grounds of the small circular park for over an hour.
As this raid was not covered by the Los Angeles metropolitan newspapers, the details concerning it must come from two obviously personally interested sources: the report of W. F. Watkins and the account given in La Opinión on 27 February 1931. According to the Spanish-language newspaper, eleven Mexicans, five Chinese, and a Japanese were singled out of the people found in the plaza and taken into custody. A crowd of onlookers gathered to watch the proceedings. One of the spectators, a young man named Moisés González who, La Opinión asserted, had entered the United States legally and had never left the country since, happened to cross the siege line while the questioning was in progress. He was immediately detained for questioning, and said he happened to be at the plaza because his place of employment, J. J. Newberry's, had been destroyed by the $450,000 fire that swept portions of the downtown business district the day before. He produced the passport given him back in 1923 when he had entered at El Paso. Even though his brother, an official in the local Confederation of Mexican Societies, attempted to vouch for him, González was taken to the city jail. According to La Opinión on 28 February, the investigators questioned González with the purpose of determining whether he had Communist sympathies, but later released him.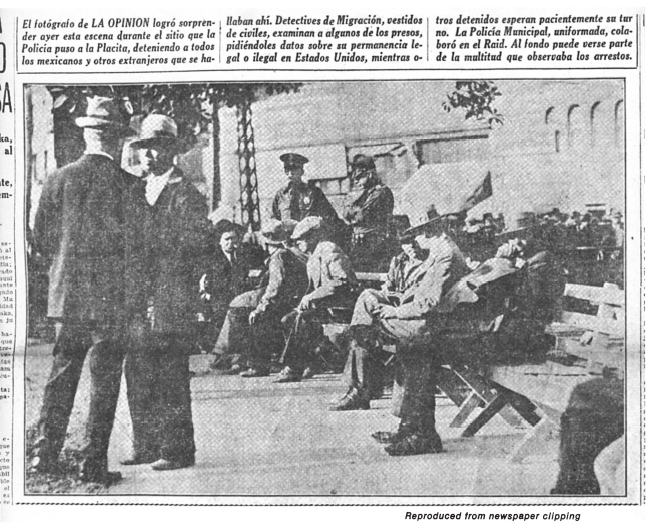 Mexican Vice Consul Ricardo Hill also witnessed the raid. When he attempted to cross the line, he too was stopped. La Opinión believed that only by Hill's presentation of his consular credentials was he able to avoid a trip to the jail.
La Opinión attributed the detention of such a large number of people to the efficiency of the authorities who carried out the raid. All exits from the plaza were simultaneously covered, and the immigration officials ordered everyone to remain seated.* Then the immigration officers began questioning each of the men there, the vast majority of whom were Mexicans or Mexican Americans. According to La Opinión on 27 February, the dialogue went something like this:
Officer: ¿Cuando entraste a Estados Unidos? [When did you enter the United States?]

Mexican: Hace cinco años. Five years ago.

Officer: ¿Por cuál puerto? [Through what port?]

Mexican: Por Nogales. Through Nogales.

Officer: ¿Tienes papeles? [Have you a passport?]

Mexican: Los perdí. I lost them.

Officer: ¿No tienes ni un papel que compruebe que me dices la verdad? [Haven't you any paper with you which you can prove that you are telling me the truth?]

Mexican: Todos los perdí. I lost them all.
Some of the more curious spectators to the activities going on inside the plaza were invited by police officers to cross the line; two who accepted the invitation were temporarily detained. Before the interrogations ended at 4:15 P.M., Main Street was "deserted."
Although the account in La Opinión leaves much to be desired because of internal discrepancies,* the newspaper did provide an interesting aspect to its coverage: a La Opinión photographer happened to be at the plaza when the raid occurred and took a picture of the proceedings. The resulting photograph, spanning five columns across page one, showed police and people in the plaza, with the crowd of spectators in the background. The banner headline blared, 11 MEXICANOS PRESOS EN UN APARATOSO RAID A LA PLACITA (11 Mexican prisoners taken at a sudden raid at the plaza). The article also included statements allegedly made by Watkins (misnamed "Watkinson" in the article) in which the supervisor insisted that the raids he sponsored were not directed solely at Mexicans but were part of a national policy aimed at apprehending illegal aliens.
In his report to the Labor Department on 2 March, Watkins denied giving any interviews, particularly to La Opinión, and also pronounced any accusations of violence committed by officers as falsehoods. After further questioning, nine of the eleven Mexicans detained in the raid had been released, and Watkins decided that the idea of "conducting investigations at fixed places, which the newspapers term 'raid,' are not proving particularly successful," to an extent because "in this city large numbers of contraband aliens are not frequently found grouped in one place."
After this Watkins planned to have his men work in small groups, as secretly as possible, concentrating on the county's outlying districts. His men had spent the past month devoting much overtime to the task of tracking down deportable aliens, and in many respects the job had been a difficult one: the glare of publicity, the accusations of brutality, the half-promises of Visel, and the animosity of representatives of ethnic groups hardly made Watkins' job an enviable one.24
Immigration Bureau Procedures
In view of the reactions to the federal antialien drive that would come from, among others, the press in Mexico, Los Angeles businessmen, the Wickersham Commission, and the Los Angeles Bar Association, some note should be taken of the procedures followed by the immigration agents in pursuing their duties. District No. 31, the region which welcomed Watkins on 31 January, extended from San Luis Obispo south to the Mexican border, and eastward from the Pacific Ocean to Yuma, Arizona. The director of this district, Walter E. Carr, had a force of about one hundred officers; his subordinate in charge of the Los Angeles city office, Inspector Judson Shaw, was in charge of thirty-five of the men. Watkins' arrival had generated considerable activity in the district, an intensification of the Bureau of Immigration's work that was part of Doak's declaration of war against deportable aliens. Besides Southern California, immigration agents had increased their activities in large urban-industrial centers across the country.
As we have seen, Supervisor Watkins' men rounded up large numbers of suspected aliens, questioned them, and held some for further interrogation. Aliens held for further questioning were subjected first to a "preliminary investigation." During this interrogation the accused person did not have benefit of counsel and until evidence had been produced verifying the legality of his status, he was detained. This detention could last until the immigration officials had obtained a statement from the suspected alien, which might not be for several days.25
It has already been noted that Watkins reported to his superiors in Washington that he made every effort to release innocent people as soon as possible. Watkins' analysis of and consular certificates was made more difficult by some unscrupulous Los Angeles notary publics, who had been issuing unofficial affidavits to Mexican nationals who had lost their passports. These documents, as de la Colina strived to inform his conationals, were worthless.26 In an age that preceded social security cards, draft cards, credit cards, or other identification people are now accustomed to carrying with them, and when fewer people had driver's licenses, proving self-identity was not an easy task.
If it was found that a provable case was in the offing, Watkins telegraphed Washington, D.C., requesting warrants which were used in formal deportation proceedings. By 7 March, Watkins had received 138 such warrants. Of this number, 80 were intended for Mexican aliens, 19 for Japanese (who fought back fiercely, 14 retaining attorneys), 8 for Chinese, and the remainder for "miscellaneous nationalities." In addition to these aliens, Watkins allowed 80 other aliens who were found to be deportable to leave for the Mexican border under the "voluntary departure" option, transportation courtesy of the federal government.
Noting that arrests in early March had noticeably declined "due to concealment and elopement of aliens," Watkins dispatched eleven inspectors to visit other parts of the district, and went himself to Bakersfield for further investigatory work. Soon he could report twenty-seven aliens apprehended, all of whom chose voluntary departure. With some difficulty, Watkins obtained a bus for the aliens and had them driven to Calexico. This marked the end of the intensified drive against aliens in the Los Angeles area. Meanwhile, the local immigration office continued to arrest deportable aliens as part of its routine.
Watkins' Success
On 21 February 1931, Watkins wrote to Robe Carl White, assistant labor secretary, and the following month to Charles P. Visel, coordinator of the Los Angeles Citizens Committee on Coordination of Unemployment Relief, that 230 aliens had been deported in formal proceedings, of whom 110 were Mexican nationals, and that 159 additional Mexican aliens had chosen the voluntary departure option to return to Mexico.
These figures revealed that seven out of ten persons deported in the Southern California antialien drive were Mexicans. By the supervisor's own admission, in order to capture the 389 aliens successfully prosecuted during this period, Watkins and his men had to round up and question somewhere between three thousand and four thousand people — truly a monumental task.
The effect of the drive on the Mexican community was traumatic. Many of the aliens apprehended had never regularized an illegal entry that might have been made years before. Other than that, to call them criminals is to misapply the term. The pressure on the Mexican community from the deportation campaign contributed significantly to the huge repatriation from Los Angeles that followed the antialien drive. But this seemed of little concern to the head of the Citizens Committee on Coordination of Unemployment Relief. By the third week in March, an exuberant Charles P. Visel could write to Secretary Doak:
Six weeks have elapsed since we have received ... Mr. Watkins, in reply to our request for deportable alien relief in this district. We wish to compliment your department for his efficiency, aggressiveness, resourcefulness, and the altogether sane way in which he is endeavoring and is getting concrete results.

The exodus of aliens deportable and otherwise who have been scared out of the community has undoubtedly left many jobs which have been taken up by other persons (not deportable) and citizens of the United States and our municipality. The exodus still continues.

We are very much impressed by the methods used and the constructive results steadily being accomplished.
 Our compliments to you, Sir, and to this branch of your service.
No Federal Endorsement
However much Visel's interpretation of the benefits derived from the campaign squared with reality,* the Department of Labor was no longer as eager to endorse the Los Angeles coordinator, or even to imply the existence of an endorsement. Perhaps the department feared any such reply might be converted into another publicity release. At any rate, with Nation and New Republic lambasting the department, Doak shied away from making a personal reply. Visel's letter was answered by Assistant Secretary W. W. Husband, who acknowledged Visel's message and then circumspectly stated:
It is the purpose of this Department that the deportation provisions of our immigration laws shall be carried out to the fullest possible extent but the Department is equally desirous that such activities shall be carried out strictly in accordance with law.
Cooperation by local authorities was appreciated, but Husband made it clear that from the viewpoint of the federal government it was the local authority that was supposed to respond to the federal government's initiative, not the other way around. The sequence of events in Los Angeles, however, had made such a point an academic one.
---
*This idea was sarcastically commented upon by the director of the Los Angeles immigration district in a report to the commissioner general of immigration on 17 June 1931, in which he explained his position in the events of the first six months of that year. Record Group 85, 55739/674, National Archives.
*The word "scareheading" was coined by Visel and used frequently by him.
*These events can be followed in the issues of the Los Angeles Times, 25 Jan. 1931: POLICEMAN SHOT IN KIDNAP FIGHT; Los Angeles Examiner, 26 Jan. 1931: DETECTIVE SHOT BY ALIEN FIGHTS FOR HIS LIFE; Examiner, 27 Jan. 1931: BECK SHOOTING SUSPECT HELD; Times, 28 Jan. 1931: OFFICER LOSING FIGHT FOR LIFE; Times, 29 Jan. 1931: SLAIN OFFICER TO BE HONORED; Illustrated Daily News, 31 Jan. 1931: MEXICAN TO FACE TRIAL IN SHOOTING. For the rape case, see the Los Angeles Examiner, 26 Jan. 1931.
*Entry under irregular circumstances is suggested as entry during the periods prior to 1929 when it was not a misdemeanor, prior to 1924 when there was no visa fee, prior to 1917 when there was no head tax or literacy test, and prior to 1908 when there was no accurate enumeration at all. It cannot be reasonably expected that Mexicans coming to the United States for whatever reasons impelled them to make the move would be aware of all the new changes and requirements in these periods of transition.
  On the attitude of people living alongside both sides of the border towards the artificiality of the laws imposed upon a natural geographic region, see Dean Williams, "Some Political and Economic Aspects of Mexican Immigration" (Master's thesis, University of California, Los Angeles, 1950), chap. 1.
*In 1931 about a dozen ethnic newspapers, most of them with small circulations, were published in Los Angeles. La Opinión was the leading Spanish-language paper, with a daily circulation in 1931 of over fourteen thousand.
*It should be noted that the size and design of the plaza in downtown Los Angeles have undergone changes since 1931.
*At one point the article mentions eleven Mexicans detained, at another thirty; the former was the correct figure. Immigration officials are mentioned in one place as wearing uniforms, in another place as wearing civilian clothes. Four hundred seems an excessively large figure for the plaza, though such a number was possible. The organization of the story was awkward, as the reporter began retelling the story halfway through the article. A follow-up story appeared in La Opinión on 28 February.
*Visel's eighth report, submitted to the President's Emergency Committee for Employment, dated 16 March 1931, under the heading "Alien Deportation," reads: "Quietly efficient. Constructive results obtained. Results permanent. Saving in city and county welfare. Capture and deportation of many criminals. No harm being done to industrial or agricultural labor requirements. No publicity [sic]. Police, Sheriff and Forestry Department cooperating." The report is appended to a letter from Visel to Dr. Willard E. Hotchkiss of PECE, 19 March 1931, NA RG 73, entry 3, 620.1, PECE Papers.